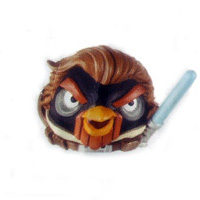 Obi-Wan Kenobi is one of the Telepods that works for the game Angry Birds Star Wars II. He is a wise Jedi master that accidentally blows up at times.
General Info
Edit
Character Reveals Number: 13
Available in: Figure Packs, Bounty Hunters, Heroes VS Villains
Special Power: Force Push
First Level Appearance: Naboo Invasion B1-4
Appearance
Edit
Obi-Wan has light brown hair, a black-plumaged body, red eyebrows, and gray eye underparts, just like Bomb. He wears a beige Jedi cloak and wields a blue-bladed lightsaber.