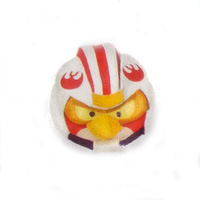 Luke Skywalker Pilot is one of the Telepods that works for the game Angry Birds Star Wars II. Basically, he is Luke Skywalker as an X-Wing pilot.
General Info
Edit
Character Reveals Number: 11
Available in: Death Star Trench Run, Figure Packs, and Heroes VS Villains.
Special Power: Lightsaber
First Level Appearance: Player's Choice
Appearance
Edit
Luke Skywalker Pilot's feathers are red with yellow eyebrows. He wears a white helmet with red stripes and a red rebellion symbol on each side. He also wears a transparent orange glass near over his eyes.