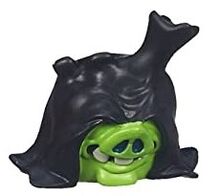 Emperor Palpatine is one of the first characters in Angry Birds Star Wars II. He is the evil emperor of the Pig Empire and lured Anakin Skywalker to the Pork Side.
General Info
Edit
Character Reveals Number: 1
Available in: Star Destroyer, Figure Packs, Jedi VS Sith Multipack, and Heroes VS Villains
Special Power: Force Lightning
First Appearance: Level B1-1
Appearance
Edit
Emperor Palpatine is a male and is green with a black cape and a crown.